Chapter 2 – The idea of starting a hot dog stand seemed like a good, basic business fer someone who had never run a restaurant of any type before. Undaunted by this lack of experience, the Cap'n laid down 5 doubloons (well really, about $5000.00), bought steamers, and applied to the various powers that be. The health department and university administration approved the plan. In November of 2002, El Capitan hoisted his Jolly Roger over Vendor's Row in front of the Viking Union Building at Western Washington University (WWU), and sold his first hot dog about five minutes later.
Still finishin' his Spanish and ESL degrees the Cap'n enlisted another pirate, Patrick Scroggins, to take the helm for the first few weeks. Then in January of 2003, Patrick turned the officially turned wheel over to the Cap'n, and the next chapter of the legend began.The stand grew steadily for the first two years, and began to make a steady income fer the Cap'n over the next few years. From 2005 – 2007 he always had a few gold coins in his pocket. The menu, which began with a hot dog, a Polish sausage, German Smoked Sausage, and Bratwurst grew to include a veggie dog, a spicy Louisiana-style hot link, and an Italian sausage. The stand became a center of culture, knowledge, and enlightenment on the WWU campus. Travelers from throughout the world stopped by to discuss business, religion, and politics – and to have lunch of course!
Then in 2008, the ill wind of the Great Recession began to blow, and college students were affected as was the rest of the world, and the Cap'ns sales plummeted just like the graph depicting the recession to the left. And talk about wind, Vendor's Row which had always seemed warm, seemed very cold in the cold winter wind when selling only 20 dogs per day.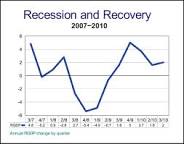 However, in 2005, the Cap'n opened his second stand, a unique, floating hot dog stand named Dogs on the Dock located in the Bellingham marina, which was open in the summer of 2006, and 2007.
And then in fall 2007 we opened our third, El Capitan's Pirate's Den (1314 railroad Avenue, Bellingham, WA, 98225), which operated until March 2018 when the building was sold. Unfortunately, the building which was known as the "garage", was destroyed by fire in February of 2019.
Meanwhile, sales at our first location, the WWU campus stand, had continued to decline, and as a friend put it politely, it "sunsetted" in May of 2009, thus ending chapter 2 of this tawdry legend.
Chapter 3 began with the opening of "The New Pirates' Den" located at 1201 Cornwall Avenue, in unit #101, on May 24, 2018, and is where the Captain and crew currently have their Jolly Roger hoisted. More on chapter 3 of the legend coming soon…