HOURS:
 Wednesday through Saturday – 11:30 AM until 2:00 AM
---
All of our gourmet sausages are 1/4 lb, come on our signature bun, on a gluten-free bun for $1 extra, or can be served on-a-stick for a low-carb alternative. Add any of the toppings from our huge condiment bar (described below). Our pirate ships are always traveling, and bringing us exotic flavors from the four corners of the globe. As a result, we've added a line of specialty dogs for your dining pleasure. We also serve grilled jumbo pretzels with your choice of butter & salt or cinnamon sugar included. We offer a variety of extras – add cheese, grilled onions, or bacon to make your sausage or pretzel extra-special!
---
EL MENU:
 All Sausages 1/4 lb – $4.75 | Pretzels are $3.00| Includes Tax
THE Hot Dog, (Bellingham's Best!) – a tasty, all-beef  sausage

Polish Sausage, (Our Most Popular Sausage) – a skinless beef and pork sausage with a hint of marjoram

German Smoked – a very smoky, flavorful, skinless German-style sausage made with beef and pork

Bratwurst, (Classic Bavarian Sausage) – a finely ground, slightly salty, all pork sausage with a natural casing

The Veggie Dog – an Italian-style vegetarian/vegan sausage with sun-dried tomatoes

The Pepper 'n Smoke – a mildly spicy, beef and pork smoked sausage with a hint of pepper and a natural casing

The Louisiana 

Hot

 Link, (Our Spiciest Dog) – a spicy, Cajun-style sausage finished with paprika – all beef with a natural casing
OUR SPECIALTY DOGS – Prices Vary
The "PATRIOT" – Our 1/4 lb. all beef Hot Dog, topped with 2 strips thick-cut bacon, melted jalapeno cheddar, and topped with secret-recipe grilled onions

The "X.O." – Our 1/4 lb. Pepper and Smoke Sausage, topped with 2 strips of thick-cut bacon, cream cheese, BBQ sauce, and secret-recipe grilled onions $7.00.

The 

"CAP'N" 

– Everything that the "X.O." has – but with Gaucho Marc's sauce added.
PRETZELS
Bethany's Jumbo Pirate Paaaaarrty Pretzel – a large pretzel toasted on a panini grill – crispy on the outside, warm and soft inside, your choice of butter, salt, mustard, or cinnamon sugar included, $3.00 – add spicy cheddar or warm cream cheese for $.50 extra
---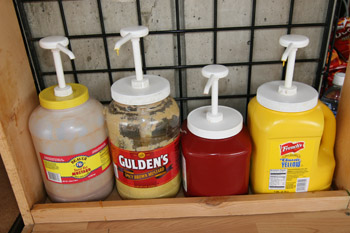 We feature an extensive condiment bar to dress your sausage, at no extra charge. In fact, we hope you agree that dressing your dog is one of the most fun parts of eating a delicious El Capitan's sausage. There are few other food varieties that have so many tasty options for adding fun stuff! The condiment bar includes a variety of mustards, ketchup, mayo, and a wide assortment of hot sauces. Also, sweet relish, dill relish, peperoncinis, jalapenos, sauerkraut, and onions!
---
EXTRAS:
A minimal extra charge gets you the following:
Bacon – two strips of our thick-cut bacon – $1.75

Secret Recipe Grilled Onions – $ .75

Warm Cream Cheese – $.50

Warm Spicy Cheddar – $.50

Our Famous BBQ Sauce – $.50

Chimichurri Sauce – $.50 (This is Argentinian Steak sauce, consisting of parsley, garlic, spices, in olive oil.)
OTHER GREAT STUFF!
"Seattle Style" any dog for $1.00 – (this is a combination of warm cream cheese and our secret recipe grilled onions)

"Gaucho Marc Style" any dog for $.75 – (this is our famous combination of Chimichurri sauce, BBQ sauce, and grilled onions)
SIDES:
Sobe, Monster – assorted flavors – $2.50

Pepsi – assorted flavors – $1.00

Tim's Cascade Chips – $1.00
(page updated 3//10/17) by The Cap'n)