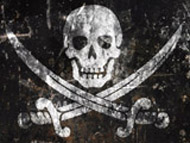 The following is excerpted from Wikipedia's entry on Port Royal, a hub of pirate activity from the mid 1600's through 1670. Previously (Nugget of Knowledge #2) we discussed another location important during the early years of the "Golden Age of Piracy" (roughly 1660 -1718), Dry Tortuga.
Port Royal provided a safe harbour initially for privateers and subsequently for pirates plying the shipping lanes to and from Spain and Panama. Buccaneers found Port Royal appealing for several reasons. Its proximity to trade routes allowed them easy access to prey, but the most important advantage was the port's proximity to several of the only safe passages or straits giving access to the Spanish Main from the Atlantic.[4] The harbour was large enough to accommodate their ships and provided a place to careen and repair these vessels. It was also ideally situated for launching raids on Spanish settlements. From Port Royal, Henry Morgan attacked Panama, Portobello, and Maracaibo. Roche Brasiliano, John Davis (buccaneer), and Edward Mansveldt (Mansfield) also came to Port Royal.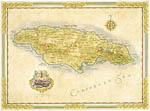 Since the English lacked sufficient troops to prevent either the Spanish or French from seizing it, the Jamaican governors eventually turned to the pirates to defend the city.
By the 1660s, the city had gained a reputation as the Sodom of the New World where most residents were pirates, cutthroats, or prostitutes. When Charles Leslie wrote his history of Jamaica, he included a description of the pirates of Port Royal:
Wine and women drained their wealth to such a degree that… some of them became reduced to beggary. They have been known to spend 2 or 3,000 pieces of eight in one night; and one gave a strumpet 500 to see her naked.[8] They used to buy a pipe of wine, place it in the street, and oblige everyone that passed to drink.
The taverns of Port Royal were known for their excessive consumption of alcohol such that records even exist of the wild animals of the area partaking in the debauchery. During a passing visit, famous Dutch explorer Jan van Riebeeck is said to have described the scenes:
The parrots of Port Royal gather to drink from the large stocks of ale with just as much alacrity as the drunks that frequent the taverns that serve it.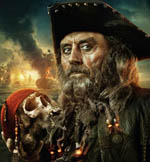 There is even speculation in pirate folklore that the infamous Blackbeard met a howler monkey while at leisure in a Port Royal alehouse whom he named Jefferson and formed a strong bond with during the expedition to the island of New Providence. Port Royal benefited from this lively, glamorous infamy and grew to be one of the two largest towns and the most economically important port in the English colonies. At the height of its popularity, the city had one drinking house for every ten residents. In July 1661 alone, forty new licenses were granted to taverns. During a twenty-year period that ended in 1692, nearly 6,500 people lived in Port Royal. In addition to prostitutes and buccaneers, there were four goldsmiths, forty-four tavern keepers, and a variety of artisans and merchants who lived in 2000 buildings crammed into 51 acres (21 ha) of real estate. 213 ships visited the seaport in 1688. The city's wealth was so great that coins were preferred for payment rather than the more common system of bartering goods for services.
Following Henry Morgan's appointment as lieutenant governor, Port Royal began to change. Pirates were no longer needed to defend the city. The selling of slaves took on greater importance. Upstanding citizens disliked the reputation the city had acquired. In 1687, Jamaica passed anti-piracy laws. Instead of being a safe haven for pirates, Port Royal became noted as their place of execution. Gallows Point welcomed many to their death, including Charles Vane and Calico Jack, who were hanged in 1720. About five months later famous woman pirate Mary Read died in prison in Port Royal. Two years later, forty-one pirates met their death in one month.
Retrieved from: http://en.wikipedia.org/wiki/Port_Royal