Chapter 1 – Like any epic tale, the legend of El Capitan's is shrouded in mystery, rife with embellishment, and marginally based in truth. The course taken by El Capitan Marc Ravaris is full of misdirection, strange twists, and blind luck – good or bad depending on the occasion. As life teaches many a explorer, careful charting can often become merely a flexible outline for the journey.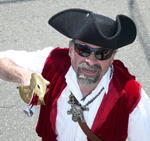 However, this much of the history is known to be fact. El Capitan first traveled to the northwest port 'o Bellingham, Washington by land, arriving in 1979 after a stint as a ski bum in Sun Valley, Idaho. Having being a long time sailor, the Cap'n fell in love with the beautiful islands and misty mountains that surrounded Bellingham. In 1982, while attending Western Washington University (WWU) , Marc started a business with an old friend named Mountain Sound Audio Production Services. After attending WWU, the business was moved to Snohomish, WA in 1986. Marc sold the business to his partner in 2003, and moved back to Bellingham with the intent of making it his new home and eventually becoming an English as a Second Language Instructor.
While in ESL training, Marc traveled and lived extensively in Mexico. He discovered the fine Stirling silver jewelry from Taxco, Mexico, and began to import these treasures from Mexico to the United States. The combination of being a sailor, and speaking Spanish, led to this new, silver-import business being named El Capitan's Silver, and the first chapter in the legend began.
The silver business lasted until 2003, which coincidentally was the year he graduated with a degree in Spanish and ESL.
Being out of business, needing a job, and being near the end of his tenure at Western, the Cap'n wandered around the WWU campus looking for a hot dog one day. Unable to find one anywhere, the Cap'n decided to try his hand hawkin' sausages to a hungry group of college students, and opened the first stand on Vendor's Row in front of the Viking Union student-union building 2003. Thus, El Capitan's Silver became El Capitan's, Brat, Sausage & Dog, now known as El Capitan's Gourmet Sausages & Pretzels to reflect the addition of grilled pretzels to our menu. So ends the first part of our tale. Like any history or legend , it will grow in both breadth and exaggeration. Check back from time-to-time to find new chapters to this swashbuckling adventure.